Giganotosaurus carolinii
Giganotosaurus (meaning 'giant southern lizard') was a genus of carcharodontosaurid dinosaur that lived 93 to 89 million years ago during the Turonian stage of the Late Cretaceous Period. It is one of the largest known terrestrial carnivores, larger than Tyrannosaurus, but smaller than Spinosaurus. Its fossils have been found in Argentina.
The Giganotosaurus´ measurements are impressive. From head to tapering tail it measured 13.5 to 14.3 meters (44 to 46 feet), and from feet to head, it stood 3.9 meters (13 feet). Its skull was the length of a tall man.
Like the T-rex ("Tyrant lizard king"), which lived 10 to 30 million years later, the Giganotosaurus was a theropod, meaning, for example, that it was a bipedal; had short, clawed hands used for grasping prey; a long tail for counterbalancing the rest of the body; was carnivorous; and had long, powerful, clawed legs built, presumably, for speed. It is believed that the Giganotosaurus held its tail erect rather than drag it.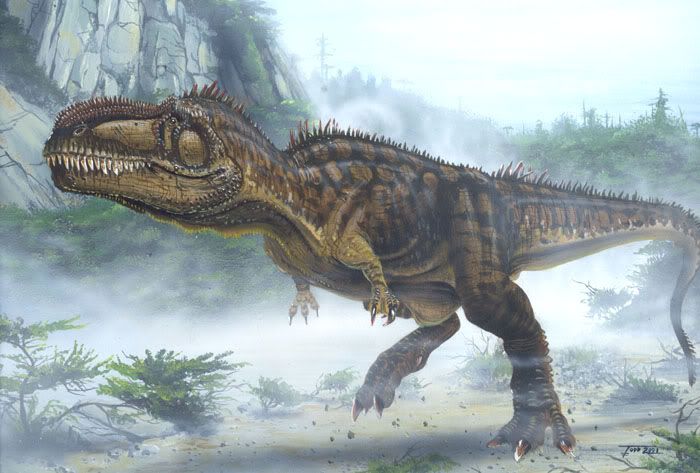 Spinosaurus aegyptiacus
Spinosaurus (meaning "spine lizard") was a genus of theropod dinosaur that lived in what is now North Africa, from the Albian to early Cenomanian stages of the Cretaceous Period, about 95 to 93 million years ago. It is unclear whether there are one or two species. The best known is S. aegyptiacus from Egypt, though a second species (S. marocannus) has been recovered from Morocco. Spinosaurus is called "spiny lizard" because it had a series of large neural spines up to 6 feet (1.8 m) long coming out of its back vertebrae, probably forming a sail-like fin that may have helped in thermoregulation, mating rituals and/or intraspecies rivalry. Spinosaurus had a relatively flexible upper spine (these vertebrae had modified ball-and-socket-joints) so it could arch its back somewhat, perhaps being able to spread the sail (like opening the ribs of a fan). Spinosaurus was bipedal (it walked on two legs). It was about 40-50 feet long (12-15 m) and weighed 6 tons or more (some paleontologists estimate it weighed up to perhaps 12 tons); it is the largest known spinosaurid (a type of large, meat-eating dinosaur). It had a large head with sharp, straight, non-serrated teeth in powerful, crocodile-like jaws. Its arms were smaller than its legs but were larger than the arms of most other theropods. It may have gone on all fours at times.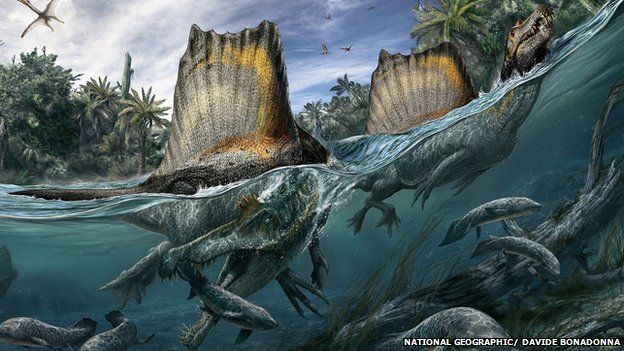 Carcharodontosaurus saharicus
Carcharodontosaurus meaning "jagged-toothed lizard" was a gigantic carnivorous carcharodontosaurid dinosaur that lived around 98 to 93 million years ago, during the Cretaceous period.Although parts of these large carnivorous dinosaurs were discovered some time ago, their huge size has just recently come to light. The first almost complete Carcharodontosaurus discovered was being studied in Germany but was destroyed by Allied bombing during WWII. with various scientists proposing length estimates for the species C. saharicus ranging between 12 and 13 m (39 and 43 ft) and weight estimates between 6 and 15 metric tons. Carcharodontosaurus had long, muscular legs, and fossilized trackways indicate that it could run about 20 miles per hour, though there is some controversy as to whether it actually did. At four tons, a forward fall would have been deadly to Carcharodontosaurus, due to the inability of its small arms to brace the animal when it landed.Carcharodontosaurus was a carnivore, with enormous jaws and long, serrated teeth up to eight inches long. It may have hunted in packs, but no fossil evidence of this exists. It may have been a scavenger as well as an active predator.
Tyrannosaurus rex
Tyrannosaurus rex was one of the largest land carnivores of all time; the largest complete specimen, located at the Field Museum of Natural History and known colloquially as FMNH PR2081 and nicknamed "Sue", measured 12.3 metres (40 ft) long, and was 4 metres (13 ft) tall at the hips. Mass estimates have varied widely over the years, from more than 7.2 metric tons (7.9 short tons), to less than 4.5 metric tons (5.0 short tons), with most modern estimates ranging between 5.4 metric tons (6.0 short tons) and 6.8 metric tons (7.5 short tons).