Smilodon populator
Temporal range:
 Late Pleistocene, 1.0 –.01 Ma
Scientific classification
Kingdom:
 Animalia
Phylum:
 Chordata
Class:
 Mammalia
Order:
 Carnivora
Family:
 Felidae
Subfamily:
 Machairodontinae
Genus:
 Smilodon
Species:
Smilodon populator
Smilodon populator
 was one of the biggest cats of all time. It was the largest of the saber-tooths, and lived in South America during the Late Pleistocene: about two million to 10,000 years ago. It originally evolved from ancestors that invaded the continent North America about three million years ago.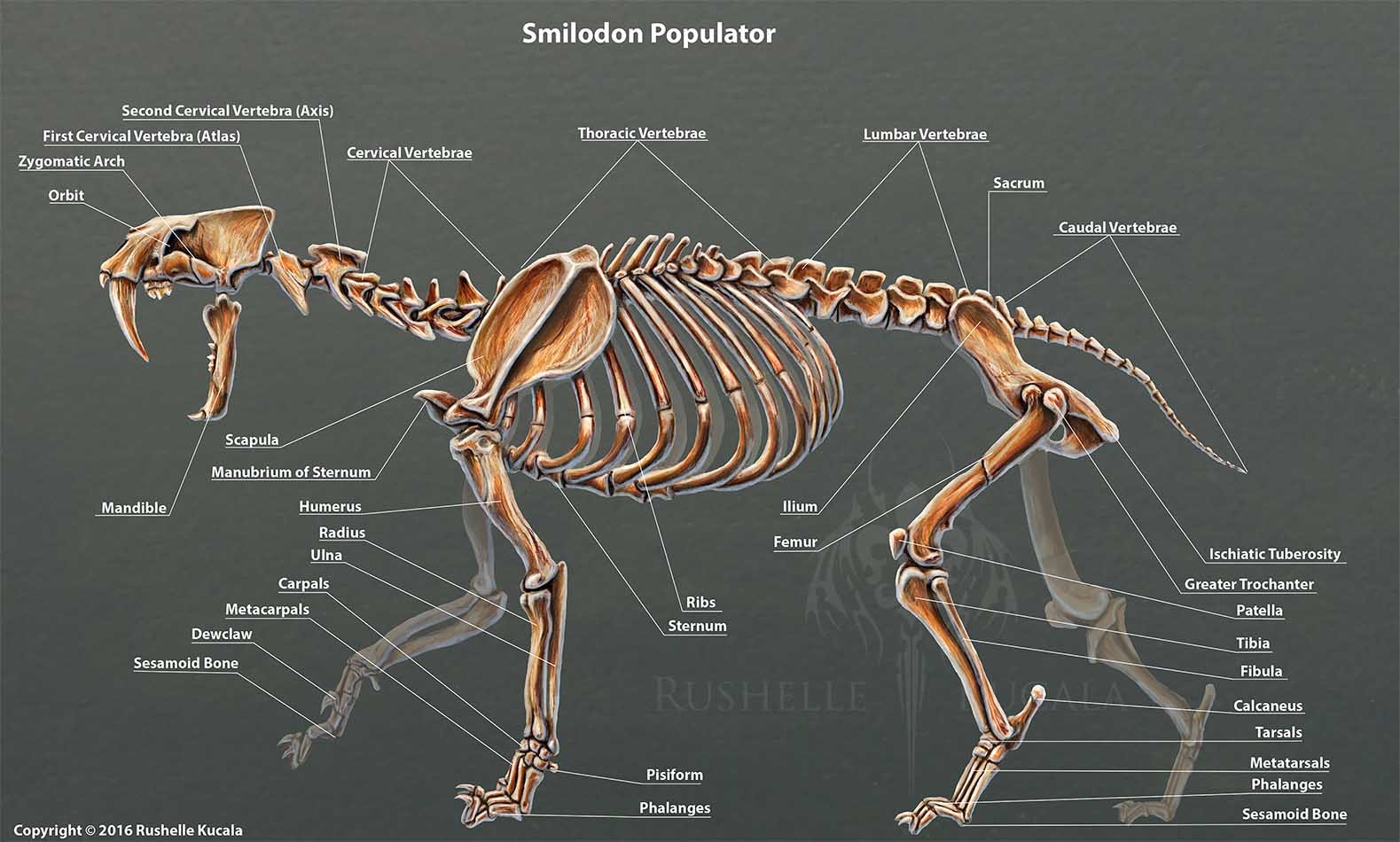 Physical Description
With an estimated weight of 200 to 300 kg and exceptional large specimens probably up to and over 400 kg, it was among the heaviest felids to have ever existed. It was much larger than its relatives, 
S. fatalis
 and 
S. gracilis
, possessing a massive chest and front legs, and is the largest known variety of saber-toothed cat. It was more than 1.40 m (55 in) high at the shoulder, 2.6 m (100 in) long on average and had a 30 cm (12 in) tail. With an estimated weight of 360 to 470 kg (790 to 1,000 lb), it was among the heaviest known felids. Its upper canines reached 30 cm (12 in) and protruded up to 17 cm (6.7 in) out of the upper jaw. Genetic evidence suggests Smilodon populator and other members of the genus diverged from the main lineage of modern cats (subfamily Felinae) around 14-18 million years ago.
S. populator
, had higher shoulders than hips and a back that sloped downwards, superficially recalling the shape of a hyena, in contrast to the level-backed appearance of 
S. fatalis
, which was more like that of modern cats. However, while its front limbs were relatively long, their proportions were extremely robust and the forearm was shorter relative to the upper arm bone than in modern big cats, and proportionally even shorter than in 
S. fatalis
. This indicates these front limbs were designed for power rather than fast running, and that 
S. populator
 would have had immense strength in its forequarters.
[Image: smilodon-web-new-use-1280x1071.jpg]
Despite being more powerfully built than other large cats, Smilodon actually had a weaker bite. Modern big cats have more pronounced zygomatic arches, while Smilodon had smaller zygomatic arches which restricted the thickness and therefore power of the temporalis muscles, and thus reduced Smilodon's bite force. Analysis of its narrow jaws indicates it could produce a bite only a third as strong as that of a lion. There seems to a be a general rule that the saber-toothed cats with the largest canines had proportionally weaker bites. However, analyses of canine bending strength (the ability of the canine teeth to resist bending forces without breaking) and bite forces indicate the saber-toothed cats' teeth were stronger relative to the bite force than those of modern "big cats". In addition, Smilodon could open its jaws 120 degrees, whereas the lion's gape is limited to 60 degrees.
Smilodon populator
 is also known from the famous cave site of Ultima Esperanza, with well-preserved remains retaining endogenous DNA.
Predatory Behaviour
The saber-tooths were specialist predators that fed on large-bodied prey. It has been an enduring mystery as to how Smilodon used its huge teeth when hunting. Some scientists think that it would slash at prey, causing huge wounds. A more likely theory suggests that the sabers evolved for a neck death-bite. In this scenario, Smilodon would hold down its struggling prey with its huge arms while it gripped the animal's throat with its mouth, the sabers slashing through arteries and crushing the windpipe. Prey quickly would be killed in this fashion, making it less likely the Smilodon would be injured. 
Behaviour
The social pattern of this cat is unknown. Some fossils show healed injuries or diseases that would have crippled the animal. Some palaeontologists see this as evidence that saber-toothed cats were social animals, living and hunting in packs that provided food for old and sick members. Living in groups would also help with having to compete with lions and wolves. The canine teeth and body size of Smilodon were about the same in both male and female cats. This indicates that Smilodon may not have lived in male-dominated groups (and that the teeth may not have been used for attracting mates as it has been suggested). However, it still could have hunted cooperatively.
Extinction
The extinction of most large-bodied herbivores 10,000 years ago meant that Smilodon had lost all of its favorite prey. Unable to compete with small-prey specialists like the cougar, the saber-tooths became extinct about 10,000 years ago and left no descendents.