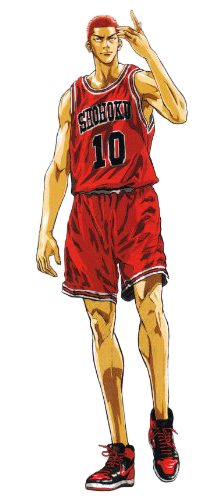 Characteristics
Gender:

 Male
Birthday:April 1
Age:16
Height:189.2 cm (6'2½")
Weight:85 kg (187 lb.)
Hair Color:Red
Eye Color:Brown
Abilities
At first, he can only do dunks and lay-ups but under Akagi's training, his rebounding prowess became the main support for the team, which earned him another nickname now known throughout all of the Kanagawa prefecture because of this, "The king of Rebounds". Then with Coach Anzai's training, he is able to finish 20,000 shots in a week to further improve his shooting range. Despite this, Mito notes that standing at 45 degrees to the right gives Sakuragi higher success rate at shooting jump shots.
Jumping Power and Rebounding
As seen and witnessed by Haruko and Hikoichi, the skills Sakuragi really excels at is his jumping, speed and power. 

Masashi Kawata

 of Sannoh notes that he has never seen a person with that kind of leg power. The height of his jump is incredibly high as noted by 

Coach Takato

 of Kainan High, as he was able to jump back to block Sawakita's dunk attempt and stop the alley-oop to Masashi, despite falling to the floor. His jumping ability makes him a formidable rebounder under the tutelage of Akagi. With this, he is more than enough to outrebound strong centers such as 

Toru Hanagata

, Jun Uozomi and 

Masahiro Nobe

 of Sannoh. 

Coach Domoto

 was even forced to put Masashi Kawata into him just to stop him from rebounding. Despite the obstacle put upon him, he is still able to hold on to his rebounding against the big men of Sannoh, which became as the starting key factor that Shohoku made a comeback victory.
Strength/Power
He gained his abnormal strength from his fights as a delinquent and some power training that hardened him before playing basketball. Akagi notes that Sakuragi is much stronger than 

Jun Uozumi

 of Ryonan despite being smaller. This was shown when he easily threw 

Koshino Hiroaki

 of Ryonan in their practice game, when the latter attempted to take the ball from him. He is also noted for being strong as Akagi says that in a battle of strength, no one can beat him. When he is and his gang came to Mitsui's rescue (though he never fought) against Ryu's gang, he was able to stretch down the pipe held by one of Ryu's men. He is able to hold his own against Mikio Kawata who weighs 130 kg. 
Speed and Stamina
Beside his jumping power and strength, he is also fast as he can catch up to defend, combined with his large amount of stamina. These were tested when Totsuka Tetsuya of Ryokufu High School challenged him in a battle of speed. While he managed to outrun Sakuragi in the 1st half, he tires out first when Sakuragi continously ran faster in the 2nd half. Even 

Sendoh

 of Ryonan, considers Sakuragi's endless stamina as a huge threat, noticing that despite everyone nearing their limit in the second half, Sakuragi acts as if the match has barely started showing no sign of tiredness.
Weakness
Sakuragi has difficulty facing off against a weak opponent as he is unable to show his true skills and abilities. Mito notices this when 

Yoshinori Miyamasu

 of Kainan subs in as Sakuragi starts to miss shots. Another weakness of Sakuragi for the majority of the series is that his shooting presence was not highly accurate which changed just before the Nationals. He is also a weak on-ball defender and can easily fall for fakes, however, his athleticism somehow makes it up for it. His arrogance and daydreaming often causes the ball to hit his face while in a game, leaving him unaware of a pass. This is also the main reason he doesn't succeed in his plots and always end up being an embarrassment for the team.
OldMan