American Cheetah -

Miracinonyx inexpectatus
Miracinonyx (American cheetahs) is an extinct genus of the family Felidae, endemic to North America during the Pleistocene epoch (1.8 mya—11,000 years ago), existing for approximately 1.8 million years.
M. inexpectatus
was more similar to the cougar than was
M. trumani
, its proportions between that of the cougar and
M. trumani
. It had fully retractable claws, combined with it´s lighter built made the
Miracinonyx inexpectatus
was likely faster than the cougar. Due to the retractable claws it is also possible that he had been more adept at climbing than
M. trumani.
These were larger than a modern cheetah and similar in size to a modern northern cougar. Body mass was typically around 70 kg (150 lb) with a head-and-body length of 170 cm (67 in), tail length of around 92 cm (36 in) and a shoulder height of 85 cm (33 in). Large specimens could have weighed more than 95 kg (210 lb).
Dire Wolf -

Canis dirus
The Dire wolf (
Canis dirus
) is an extinct carnivorous mammal of the genus Canis, and was most common in North America and South America from the Irvingtonian stage to the Rancholabrean stage of the Pleistocene epoch living 1.80 Ma – 10,000 years ago, existing for approximately 1.79 million years. lthough it was closely related to the Gray Wolf and other sister species, Canis dirus was not the direct ancestor of any species known today. Unlike the Gray Wolf, which is of Eurasian origin, the Dire Wolf evolved on the North American continent, along with the Coyote. The Dire Wolf co-existed with the Gray Wolf in North America for about 100,000 years. The dire wolf was about the same size as the largest modern gray wolves (
Canis lupus
), which are the Yukon wolf and the northwestern wolf.
C. d. guildayi
weighed on average 60 kilograms (132 lb) and
C. d. dirus
was on average 68 kg (150 lb). The legs of the Dire Wolf were proportionally shorter and sturdier than those of the Gray Wolf, and its brain case was smaller than that of a similarly sized gray wolf. The Dire Wolf's teeth were similar to the Gray Wolf's, only slightly larger, pointing to a hypercarnivorous to mesocarnivorous activity. Paleontologist R.M. Nowak states the dietary characteristics are primarily carnivorous as well as partially omnivorous.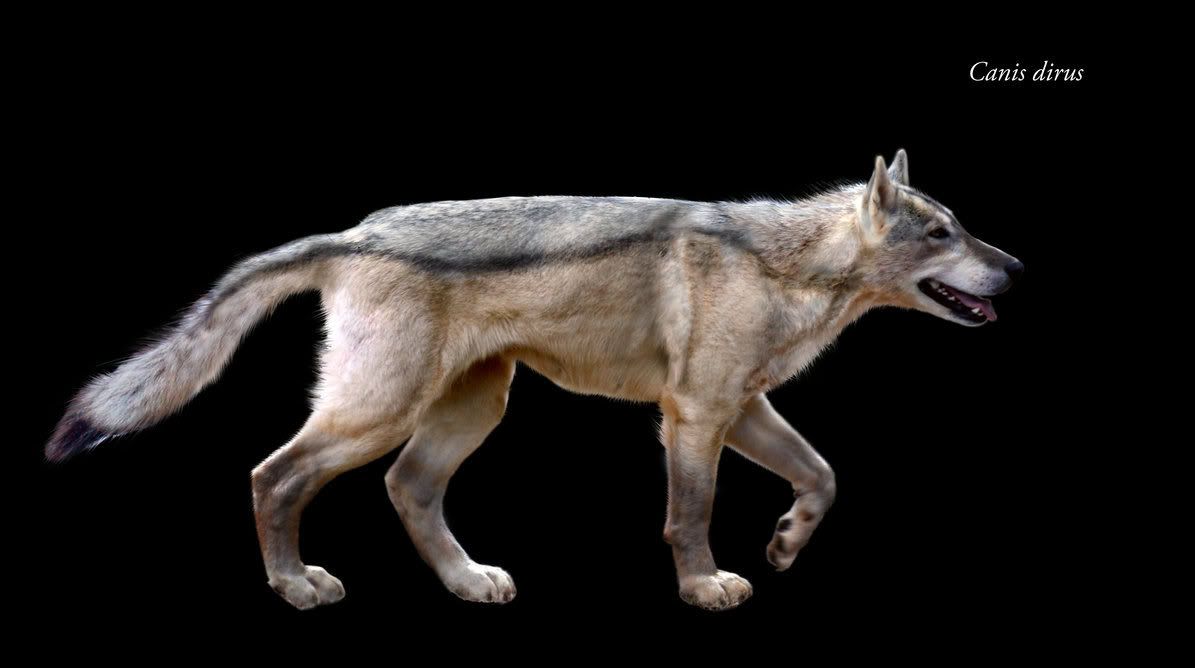 ---
(02-14-2019, 07:46 AM)

Uncia Wrote: American Cheetah vs Dire Wolf