Let's talk about fish. Bony fish are extremely diverse and many of them are ferocious and efficient predators. I created the thread to discuss about species with the most powerful bites and those with the best set of teeth.
First, talking about the strength of the bite:
I recently saw an article that says the piranha has the most powerful bite among vertebrates (considering body weight).
However, I don't know if the bite of the piranha is stronger than that of the puffer, which is able to cut metal with ease (I'm not going to post the video because I think it's a cruelty case against the animal) .
Others fish with beak such as parrot fish should also possess extremely powerful bites, since they feed on corals.
Among the predators, it is worth mentioning the golden dorado whose fame speaks for itself, and the wolf fish ( There is a video too, but I also consider it a case of cruelty).
What do you think about it? What would be the fish with the most powerful bite? Do you remember any other species?
-------------------------------------------------- --------------
About the dentition, which species do you think are the most incredible?
Some species are well known: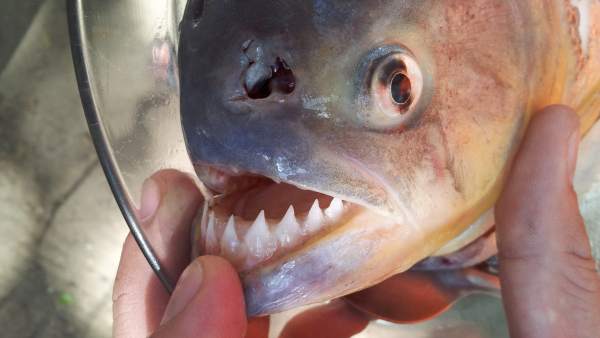 Others, less known, also have a formidable dentition: 
Sorry for my precarious English